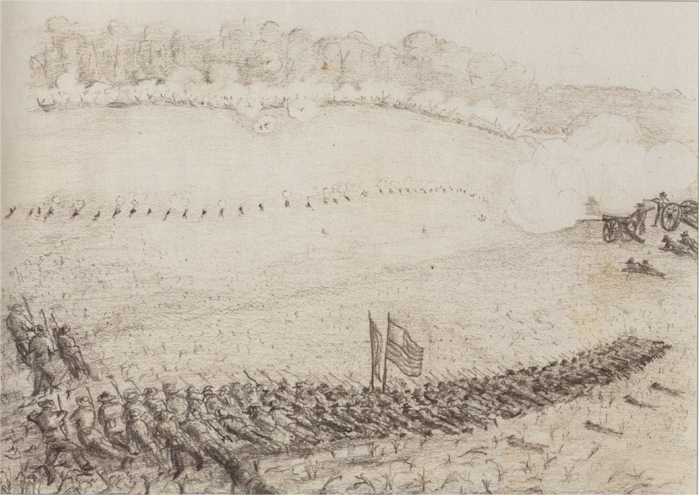 "Battle of Champion Hill", sketch by Lt. Henry Otis Dwight, 20th Ohio
source: BattleOfChampionHill.org
Frank Herbert, author of The Dune Chronicles, was right when he wrote "war is the most readily available form of chaos".

(1)

The longer I research ancestors involved in the Civil War and other conflicts, the truer this statement becomes for me.
Take the case of James S Roach, the GGGrand Uncle of my husband. Using data from his Combined Records Packet on fold3.com and his wife's applications for a Confederate Widow's Pension, I was able to learn a lot about the last two months of his life.
James had enlisted in Company B of the 43rd Georgia Infantry CSA on 7 May 1862.

(2)

According to Wikipedia, the 43rd had been formed in the Spring of 1862 and soon began to see action in skirmishes leading up to the Vicksburg Campaign. The men of the 43rd, including James, were involved in both the Battle of Chickasaw Bayou and the Battle of Champion Hill.

(3)
According to James' packet of military records, he was among the group of 1697 Confederate soldiers captured at the Battle of Champion Hill.

(4)

The American Civil War 150 Years Ago Today provides an interesting account of this battle and its results for the South. His capture began the final weeks for James, a period that took seeing in a timeline for me to fully grasp.
16 May 1863 Captured at the
Battle
of Champion Hill (
Mississippi
)
25 May 1863 Send with other prisoners to Memphis (Tennessee)
undated Listed as a POW at Camp Morton (Indiana)
9 Jun 1863 Transferred to Fort Delaware (Delaware)
3 Jul 1863 Paroled at Fort Delaware
6 Jul 1863 Arrived at the City Port of Richmond (Virginia)
Undated Listed on the Report of Sick or Wounded, Camp Lee (Virginia)
19 Jul 1863 Died of pneumonia at Camp Lee Hospital
In two months, James had been captured, sent to three different incarceration / prison facilities, paroled, became ill somewhere along the way, hospitalized, and then died. His widow, Mary Hillhouse Roach, later said on her initial pension application, that she learned some of what happened to her husband from friends, those who had been there with him. According to final military records, James was buried in Hollywood Cemetery, Richmond, Virginia, in an unknown location.

(5)
Chaos, seen through one man's final days.
(2) Georgia. "Confederate Pension Applications, Georgia Confederate Pension Office, RG 58-1-1" Georgia Archives.
(3)
"43rd Georgia Volunteer Infantry" Wikipedia,
http://en.wikipedia.org.
(4) "Civil War Records, James S Roach," Fold3.com (citing
National Archives Catalog ID 589657, Record Group 109 Georgia roll 0463.
(5) Hollywood Cemetery, http://www..webcemeteries.com/Hollywood.